Heritage gloves made in England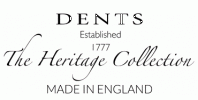 Discover Timeless Elegance with Dents Heritage Gloves - Crafted in England
Experience the epitome of luxury and craftsmanship with Dents Heritage Gloves. Crafted in England, each pair embodies centuries of glove-making expertise, making them a symbol of British excellence.
Dents' commitment to quality is unparalleled. These gloves are meticulously crafted from the finest leathers, including deerskin, lambskin, and peccary, known for their sumptuous texture and durability.
Skilled artisans use time-honoured techniques to handcraft each pair. The result is a glove that fits like a second skin, offering unparalleled comfort and a perfect fit.
Dents offers an array of styles to suit any occasion. Whether it's classic driving gloves, winter warmth, or elegant evening wear, there's a Dents Heritage Glove for every moment.
Indulge in the legacy of Dents, where every pair of heritage gloves are an ode to timeless British craftsmanship. Elevate your style and comfort with gloves that have graced the hands of royalty and connoisseurs worldwide. Experience luxury made in England.