Glen Appin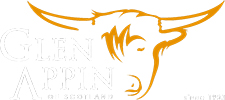 Bulloch, Cowell & Co Ltd is a privately owned independent company and has been established now for over 100years. In 1903 the company was formed as cloth manufacturers and converters and this together with ladies and children's wear introduced in 1975 was the main trade of the company for over 75 years.
Today trading under the banner of "Glen Appin of Scotland", Bulloch Cowell & Co Ltd is known and recognised by many not only within Scotland but also internationally as a company associated with quality products backed by a first class service. The company now supplies Scottish shops worldwide both textiles, in particular children's wear and accessories, and also a broad range of gifts.
We stock a variety of Glen Appin products inluding Harris tweed hats, caps and fishing hats.