Dents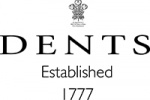 The history of Dents can be traced back to 1777, when John Dent established his accessory company manufacturing fine leather gloves in Worcester, England.

The company continued to grow under the guidance of Dent's two sons, John and William, and by 1833 Dents was employing 133 craftsmen and craftswomen at its factories in Worcester and London, engaged in hand cutting and stitching, a unique skill still practised today.

From its earliest days the company was an active exporter, successfully selling to the finest shops and stores in Europe, North America, Asia and Australia. The skill and craftsmanship which underpin Dents' worldwide reputation are still very much in evidence, and today the company continues to exercise that care and attention to detail which has been its hallmark since 1777. Although primarily famous for the crafting of fine leather gloves, Dents has always been involved with the design and manufacture of fine accessories. Today the Dents Collection includes gloves, belts, handbags, hats, scarves, serapes and small leather goods for men and women.
Westaway and Westaway were stockists of Dents gloves back in the 80's in the shops around the British Museum. After a period in the 90's without Dents in our range, we are very pleased to be able to offer a selection of Dents Gloves, Dents Caps and Dents Wallets.