Driving Gloves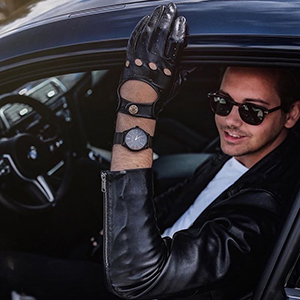 Dents Driving Gloves: Enhancing Comfort and Style Behind the Wheel
When it comes to driving gloves, you might initially wonder, 'What's the point? Who needs a pair of gloves specifically for driving?' Are we all destined to be like James Bond, navigating through exotic landscapes in our Aston Martins, eluding enemy agents at every turn? Probably not. However, I'd like to share my experience with Dents driving gloves and why they have become more than just a fashion statement for me.
At first, it might sound unnecessary, but Dents driving gloves have surprised me with their exceptional comfort and style. Whether it's the premium leather or suede material or simply the allure of wearing gloves while driving, I must admit, I'm a convert.
Let's be clear, driving gloves won't magically transform your car into a luxury sports car. They won't give your Ford Fiesta the speed of a Ferrari. Nevertheless, they do make your driving experience significantly more comfortable.
During those long hours gripping the steering wheel, your hands can start to feel fatigued and raw. Dents driving gloves offer a solution by providing protection and cushioning. Plus, they undeniably add a touch of sophistication to your driving attire.
Notably, driving gloves make a statement. They convey, 'I value the driving experience, appreciate style, and prioritize my hand comfort.' Who wouldn't want to make such a statement?
However, it's essential to recognize that not all driving gloves are equal in quality. Opting for high-quality Dents driving gloves ensures durability and lasting comfort. Personally, I'm partial to classic leather gloves. They exude timelessness, durability, and can complement any outfit. But for those seeking a touch of adventure, suede gloves or unique patterned gloves might be appealing alternatives. Just exercise caution to avoid an unintentional clownish appearance.
In conclusion, are Dents driving gloves a necessity? Probably not. Are they a splendid addition for those who appreciate style and comfort in their driving experience? Absolutely. If you're in search of that extra touch of luxury and practicality behind the wheel, investing in a quality pair of Dents driving gloves is a choice you won't regret."