Bown of London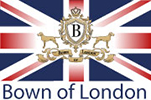 Established in 1989, Bown of London is Great Britain's largest supplier of luxury bathrobes designed in the UK and they are proud of our reputation as the 'Rolls Royce' of Men's bathrobes.
Bown of London are passionate about quality, style and comfort. They use only the finest Egyptian cotton for their velour and lightweight robe collections and add new designs quarterly.
All Bown robes feature a double belt waist loop which ensures your gown belt fastens at the correct waist height for your shape and some gowns have the added luxury of a double cuff.
Finally all robes are guaranteed for 12 months from date of purchase and Bown's collection can be found in the finest department stores and independent retailers worldwide and online.
They are a new addition to the Westaway range and the quality of the product along with being a British company fits well with our company philosophy. We are confident you will enjoy their dressing gowns too