Cashmere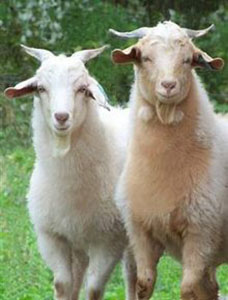 Cashmere fibre comes from the cashmere goat. The best cashmere products are made using the fine soft undercoat of goats from the Mongolian mountains, selecting only the longest softest fibres. Cashmere is famous for its soft luxurious handle and the warmth given when wearing it. As it is a natural product, cashmere is very suitable for people with sensitive skin.
All the cashmere we offer is made in Scotland, which guarantees the best quality cashmere there is. We offer single ply cashmere knitwear, two ply cashmere knitwear and four ply cashmere knitwear for men and ladies. We also have cashmere accessories such as cashmere berets, cashmere beanie hats, cashmere scarves, cashmere stoles, cashmere rugs, cashmere socks and cashmere gloves.
Westaways range of cashmere comes at unbeatable prices, with free world wide delivery on most products, our 90 day money back guarantee and VAT free sales to non EU customers.