Childrens Clothing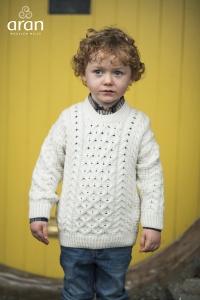 Classic Elegance and Cosy Warmth: Discover British and Irish Children's Clothing at Westaway & Westaway
In the realm of children's fashion, finding the perfect balance between style and comfort is a perpetual quest for parents. Look no further than Westaway & Westaway, the esteemed online retailer specializing in exquisite British and Irish children's clothing. With their collection of pure merino wool Aran pullovers, pure Shetland wool knitwear, pure lambswool scarves, and pure wool kilts, they encapsulate the timeless charm and cosy warmth that every child deserves.
When it comes to sweaters, the merino wool Aran pullovers from Westaway & Westaway are second to none. Crafted from the finest pure merino wool, these pieces are a testament to the traditional Aran knitting techniques handed down through generations. Adorned with intricate patterns and delicate details, each pullover is a work of art that exudes sophistication and warmth. Whether it's a chilly winter afternoon or a blustery spring day, these pullovers provide the perfect layer of insulation without compromising on style.
For those seeking classic knitwear options, Westaway & Westaway presents a selection of pure Shetland wool garments. Known for its softness and durability, Shetland wool is the epitome of comfort. From cosy cardigans to adorable fair isle yoke jumpers, these pieces combine British craftsmanship with timeless designs, making them versatile staples for any child's wardrobe.
To keep little necks snug during the colder months, Westaway & Westaway offers pure lambswool scarves that are as fashionable as they are functional. These scarves come in a range of colours, allowing children to express their unique style while staying cosy and protected from the elements.
And let's not forget the pure wool kilts—a charming addition to any child's attire. With their vibrant tartan patterns and meticulous tailoring, these kilts pay homage to the rich heritage of British and Irish fashion. Whether for special occasions or simply to infuse everyday outfits with a touch of regality, these kilts are sure to delight both children and their parents.
Westaway & Westaway has curated a remarkable collection of British and Irish children's clothing, celebrating the finest materials and craftsmanship. From pure merino wool Aran pullovers to pure Shetland wool knitwear, pure lambswool scarves, and pure wool kilts, their offerings embody the perfect blend of classic elegance and cosy warmth. Prepare to immerse your little ones in a world of comfort and style as they embark on their own fashionable adventures.